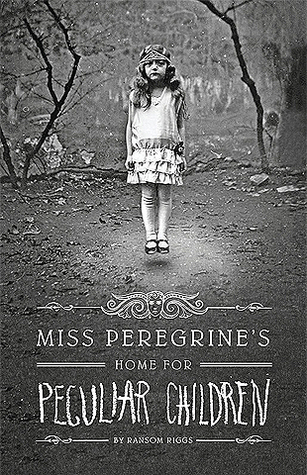 Title: Miss Peregrine's Home for Peculiar Children [Book I/III]
Author: Ransom Riggs
Genre: paranormal; fantasy
Synopsis: (from Goodreads) A mysterious island. An abandoned orphanage. A strange collection of curious photographs. A horrific family tragedy sets sixteen-year-old Jacob journeying to a remote island off the coast of Wales, where he discovers the crumbling ruins of Miss Peregrine's Home for Peculiar Children. As Jacob explores its abandoned bedrooms and hallways, it becomes clear that the children were more than just peculiar… And somehow—impossible though it seems—they may still be alive. A spine-tingling fantasy illustrated with haunting vintage photography, Miss Peregrine's Home for Peculiar Children will delight adults, teens, and anyone who relishes an adventure in the shadows.
Review: I read this book while flying back from California last summer. I had a six hour flight to kill, and this was the way to do it.  A little bit suspenseful, this book was a fun read. I was so intrigued as I followed Jacob through his adventure. I loved this book but did NOT love the movie. It is SO SO SO SO SO different. So if you're thinking of cheating yourself here, don't. Read the book, it's ALWAYS better.
Jacob as a protagonist is a good lead – you're following in his footsteps as he learns about his family's past and his place in the legacy. Everything is not what it seems to be, and Miss Peregrine is a good – but mysterious – tutor. The relationships between characters are thoughtful and sweet, something the movie doesn't quite to justice to.