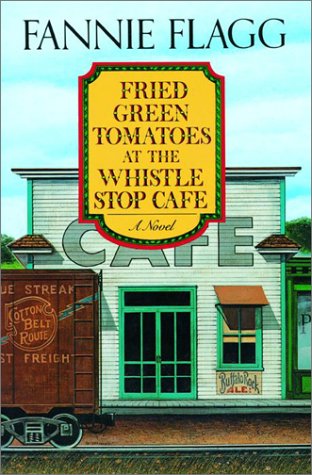 Title: Fried Green Tomatoes at the Whistlestop Cafe
Author: Fannie Flagg
Genre:  fiction, historical fiction, LGBT, feminism
Synopsis: (from Goodreads) It's first the story of two women in the 1980s, of gray-headed Mrs. Threadgoode telling her life story to Evelyn, who is in the sad slump of middle age. The tale she tells is also of two women — of the irrepressibly daredevilish tomboy Idgie and her friend Ruth, who back in the thirties ran a little place in Whistle Stop, Alabama, a Southern kind of Cafe Wobegon offering good barbecue and good coffee and all kinds of love and laughter, even an occasional murder.
Review: If you've seen Fried Green Tomatoes and liked it, you'll love the book a thousand times more. The book answers all of those ambiguities from the movie and sheds more light on all of the characters. Ruth and Idgie's relationship is pure and beautiful and clearly defined. Ninny as a storyteller is wonderful and Evelyn is much more defined.
If you haven't seen the movie, this book is told from multiple perspectives in multiple eras. Depression Era south, 1980's Birmingham. It's got everything you'd expect a historical fiction novel to have — a busybody with her own news column, family, love, loyalty, action, and humor. When you read this, you'll fall in love with Flagg's characters — from Smokey Lonesome, the hobo who tramps around the country on the rails, to Idgie Threadgoode, feminist icon who defies gender roles in a time where women were meek and obedient.
The only thing that stopped me from giving this a 5/5 is how Flagg wrapped up a few of my favorite characters. The writing style is unique — each voice is distinct, and no one gets left behind.