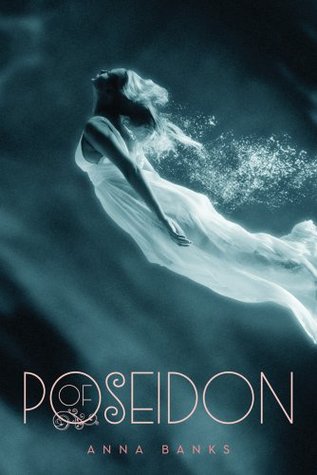 Title
: Of Poseidon
Author
: Anna Banks
Genre
: Fantasy; Mermaid
Synopsis
: (from Goodreads) Galen is the prince of the Syrena, sent to land to find a girl he's heard can communicate with fish. Emma is on vacation at the beach. When she runs into Galen—literally, 
ouch!
—both teens sense a connection. But it will take several encounters, including a deadly one with a shark, for Galen to be convinced of Emma's gifts. Now, if he can only convince Emma that she holds the key to his kingdom… Told from both Emma and Galen's points of view, here is a fish-out-of-water story that sparkles with intrigue, humor, and waves of romance.
Review
: Part 1 of The Syrena Legacy, 'Of Poseidon' is a great text to get struggling readers reading. Romance with a dash of action, this YA novel is fun and a fast read. Because you go from Galen to Emma and back again, you get to know both of them very well. The little girl inside of me that always swam like a fish and wished to be a mermaid loved this book. Everyone who ever feels different wishes they could be part of something bigger and for Emma, she gets just that. Everything she thought she knew about who she was and where she came from gets challenged in this first book of a trio. Galen too, learns that he's more than just a title.
Completely worth the read!